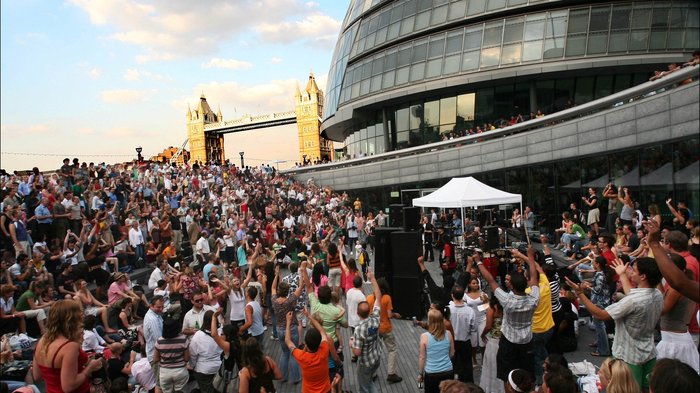 Home to the world's largest single-run arts centre, the centre of Shakespearean theatre and a specialist cinema, London's South Bank continuously hosts an impressive line-up of events. With the addition of outdoor activities and al fresco drinking, this is heightened in the summer season. So, read on to discover the best of what the South Bank has to offer for summer 2013.
Al Fresco
The minute a ray of sunshine envelopes London, the South Bank is transformed into the capital's hub of al fresco comedy, theatre and variety performance. At the centre of this is the
Udderbelly Festival
, which will return in 2013 for its fifth year. Open in spring and running throughout the summer, Udderbelly plants a giant upside-down purple cow outside the Southbank Centre and stages a diverse programme of award-winning events. Ranging from classic stand-up to intriguing fringe and family fun to late-night naughtiness, the iconic fixture has something for everyone. It's also home to one of the biggest outdoor bars in central London 2013 a vital accompaniment to some of the eccentric sketch shows. Comedy comes in the form of
Richard Herring
,
Andi Osho
and
Nick Helm
, while circus lovers will be treated to Pirates of Carabina's new gravity-defying show,
Flown
. A new feature on the programme is
Circus Maximus
, the UK's first ever circus competition with the country's finest talent competing for a £5000 prize. Post watershed entertainment is provided by
Late Night Gimp Fight
,
Spank! - You Love It!
, and the popular
Friday Night Freakshow
.
| | |
| --- | --- |
| | |
In 2012 Underbelly, the team behind Udderbelly, introduced another summer fixture to the Southbank Centre,
London Wonderground
. Returning for 2013, Wonderground will stage five months of cabaret, circus and sideshow within its outdoor playground and giant Spiegeltent. Presented by the creative producers of last year's hair-raising show
Cantina
, which successfully shocked audience after audience with its mind-bending acrobatics and blush worthy nudity, 2013's headline show will be
Limbo
. With another impressive blend of heart-stopping illusions, meticulous manoeuvres and breath taking dance moves, audiences can expect more extraordinary entertainment. Further shows include
Shclomo
, beat boxing from a record breaking champion;
The Tiger Lillies
, Grammy-nominated, Olivier award-winning alternative cabaret performers; and
House of Burlesque
, a celebration of decadence, glamour and empowerment from Miss Tempest Rose.
Udderbelly and London Wonderground form part of the Southbank Centre's
Festival of Neighbourhood
, a four-month bonanza that transforms the South Bank into a world of allotments, fruit trees, Thames-view gardens, a beach, a local pub, murals, street parties, flags and family games. There will be themed weekends throughout the summer and a range of markets, restaurants, bars and cafes popping up throughout the entire duration; plus, a construction of Beanotown in the undercroft of the
Queen Elizabeth Hall
– an imaginary neighbourhood that pays homage to
The Beano
magazine.
Opening in July as part of the Festival of Neighbourhood, following its world premiere at the Montreal Completely Circus Festival in 2011, the UK premiere of
Timber!
comes to the Southbank Centre. A circus show featuring a family from the remote forests of Quebec, it has juggling axes, daring aerial acrobatics and stunts with lumberjack saws, certifying that this isn't a show for the faint hearted. Throw in a spot of clog dancing, tight-rope walking, cooking, vegetable chopping and storytelling, and it definitely wins the prize for the most random event on the summer's South Bank programme.
| | |
| --- | --- |
| | |
Further down the Thames, opposite the Tower of London, the
Scoop at More London
's outdoor amphitheatre will stage another summer of free theatre, film screenings, live music and community events. The 'king of al fresco venues' splits its summer season into four months, with each dedicated to a specific genre. June combines dance, laughter and mindfulness for a month of free fringe. The Pantaloons Theatre Company will perform
Sherlock Holmes
, an inventive and humourous show for all ages; Merry Opera presents
The Magic Flute
, a pantomime and opera hybrid; and
The Movement Factory
will get visitors moving like they've never moved before with their one-stop-shop for dance development. July offers four weeks of live music and August serves a month of free theatre. With two fully stages productions, the daytime will stage the family friendly
Prince of Thebes
, a magical tale of Thebes and his quest to lift an evil spell. Once the sun has set and the children have been put to bed, older audiences will be able to enjoy
Oedipus and Antigone
, which chronicles the downfall of the Theban Royal family. September, the Scoop's final month, screens a mixture of current, classic and cult films with the record-breaking Skyfall, classic favourite Back to the Future and Oscar-winning Les Miserables on the line-up.
Theatre
In February 2013 the South Bank welcomed an additional venue:
The Shed
,
National Theatre
's new temporary performance space. Designed by architects Howarth Tompkins, who are working on the refurbishment of the Cottesloe, The Shed is a distinctive red box with a capacity of 800. For one year it will host a programme that celebrates new theatre and a blend of both established and emerging artists. Its premiere performance,
Table
, runs from April to May 2013 and encompasses six generations, nine performers, thirty characters and one piece of furniture. The Shed's summer programme features
Bullet Catch
, a dark and exhilarating one-man show that will test audiences' nerves;
Mission Drift
, award-winning New York ensemble The TEAM combine mythic and contemporary stories; and Romeo and Juliet, a contemporary family-friendly celebration of Shakespeare's much-loved romance drama.
Away from The Shed, the National Theatre offers a varied summer programme across its other venues.
Othello
is staged in the Oliver Theatre with Adrian Lester taking the title role, his first performance at the National since playing the theatre's first black Henry V. While a collaboration with Punchdrunk allows Londoners to witness the talents of this pioneering theatre company following their sell-out, critically acclaimed performance of The Masque of The Red Death in 2007.
The Drowned Man: A Hollywood Fable
will transform an entire central London building into a hallucinatory world that enables Punchdrunk to interpret Georg Büchner's
Woyzeck
through an immersive theatrical masterpiece.
| | |
| --- | --- |
| | |
Titling its 2013 season 'A Season of Plenty',
Shakespeare's Globe
promises a bold and vibrant programme throughout the summer and the rest of the year. Among the fifteen shows there will be three world premieres:
Gabriel
, written by the award-winning Samuel Adamson and with music by Purcell and Handel, this musical combines real and imagined characters;
Blue Stockings
, set in 1896, Jessica Swale's play tells the story of four young women and the hardships they face; and
The Lightning Child
, a modern take on Euripides' The Bacchae that combines cross-dressing, drug abuse, internet porn and classical myth. Further highlights of the Globe's programme include
A Midsummer Night's Dream
,
The Taming of the Shrew
and
The Tempest
, all of which will be given special one-off midnight matinees. A selection of international companies who came to the theatre for last year's
Globe to Globe
will also return for limited productions of
Venus & Adonis
,
As You Like It
,
Indian Tempest
and
King Lear
.
Music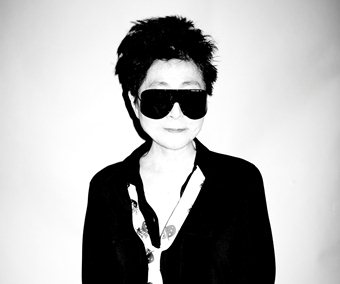 The
Southbank Centre
's
Meltdown Festival
is back for 2013 and this year cultural icon Yoko Ono is taking the reins. This will be the 20th anniversary of the festival and Ono, who celebrates her own 80th birthday this year, will bring a lifetime of achievement in music, visual art and peace activism to the occasion. With some of pop music's innovators 2013 including David Bowie, Jarvis Cocker, Morrissey and Massive Attack - among the past curators of this iconic festival, Meltdown has become one of London's cultural highlights. Ono has invited Iggy and the Stooges, Boy George, Patti Smith and many others to be part of her ground breaking Meltdown and she will perform with her Yoko Ono Plastic One Band
The Centre's epic music festival
The Rest Is Noise
also continues throughout the summer. A tribute to music critic Alex Ross' 2008 book of the same name, this ambitious festival incorporates more than 100 concerts, performances, films, talks and debates. Through performances from the Royal Philharmonia Orchestra and artists from the UK and further afield, The Rest Is Noise takes audiences on a chronological journey through music of the 20th century and pinpoints the century's political and social history.
Fiction
The
BFI Southbank
, London's specialist cinema, celebrates Doctor Who's 50th anniversary throughout 2013 with one-off monthly events that remember all the Doctors of the past. With a programme of 11 television incarnations and one film, it will be a full 12-month cycle. The year's opening months screened An Unearthly Child (1963),
The Tomb of Cybermen
(1967), The Mind of Evil (1971) and Robots of Death (1977). However, creating unbearable suspense for any Doctor Who fans in London, the programme for the rest of the year is being kept under wraps until the month in question.
The BFI celebrates the centenary of Nikkatsu, Japan's oldest major movie studio, with a retrospective throughout the whole of June, and the first ever retrospective of
Tony Garnett
, the controversial producer of TV dramas
Cardiac Arrest, The Spongers, Law and Order
and
This Life
, also continues throughout the month. Running in June and July, a Werner Herzog season ties in with two theatrical releases from the German director:
Aguirre, Wrath of God
(1972) is the third feature and international breakthrough from Herzog and on June 7th will be newly restored and back on the big screen, while
The Enigma of Kaspar Hauser
(1974) will follow with a cinematic release on 5th July.
Serving up its annual dose of world class literature, the
London Literature Festival
brings an exuberant mix of spoken word performances, exciting new collaborations, workshops and talks from international writers and thinkers. With its most ambitious festival to date, this year's programme highlights include musician Jarvis Cocker dissecting what it means to be famous, Lionel Shriver discussing her new novel
Big Brother
and Rupert Everett disclosing the secrets of his memoirs. Audrey Niffenegger will also introduce her new novel
The Raven Girl
, which has been adapted into a new ballet for the
Royal Opera House
. Recognising its host city, the festival will centre on the theme of London with a number of special walks, runs, talks, participation and performance. The line-up will see poets connected to London perform a series of specially commission poems, Poems on the Underground to celebrate
150 years of the tube
, and award-winning author China Miéville unearth some of London's lesser known literary visionaries.