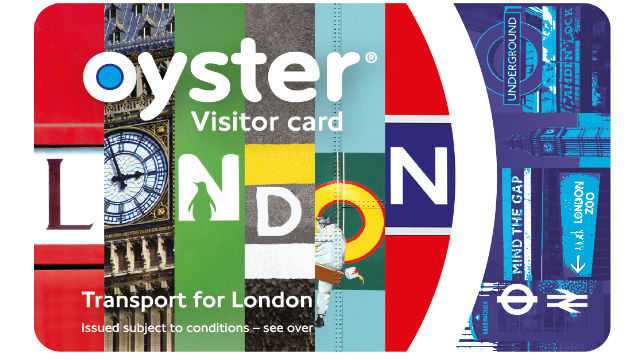 It's easy to use a Visitor Oyster card. Simply touch the card on the yellow card reader at the gates when you start and end your journey. This will ensure you pay the correct fare. If you don't, you may get charged a penalty fare. If you need help ask a member of station staff.
You only need to touch the yellow card reader at the start of your journey on buses and trams.
Travel Zones in London
Travel ticket prices vary depending on the transport service you use, the zone(s) you travel in, the day you travel and the time you travel.
Buy a Visitor Oyster Card Before You Leave Home
Save time – your card is ready to use as soon as you arrive in London
It's more than 50% cheaper than buying a paper Travelcard or single tickets with cash
There is a daily price cap – once you have reached this limit, you won't pay any more
Enjoy special offers and promotions at leading London restaurants, shops and entertainment venues – plus discounts on the Emirates Air Line cable car and Thames Clippers river buses
Visitor Oyster Card Pay As You Go
Pay as you go fares are generally cheaper than paying cash. Oyster will work out the cheapest fare for all your journeys in one day so you'll never pay more than the price of a Day Travelcard (read below).
How to Add Credit to Your Visitor Oyster Card
If you run out of credit on your Visitor Oyster card you can add more credit at the following locations:
Day Travelcards
You can buy Day Travelcards for the following zones:
Zones 1-4 (only Anytime Day Travelcards are available for these zones)
Zones 1-6
Zones 1-9
Zones 1-9 including Watford Junction
You can buy either an Anytime Day Travelcard, which allows you to travel at any time of the day, or an Off-Peak Day Travelcard, which is cheaper but only allows you to travel after 9:30am Monday to Friday and anytime on Saturday, Sunday and public holidays.
If you are visiting London for a week or more, and plan to use only the Central London area (e.g. zones 1 to 2 or zone 1 to 4) on a daily basis, then a 7 Day Travelcard may be the most cost-effective option.
You can buy paper Travelcards at the station.
Travelcards on Oyster
You can buy and top up Oyster cards from the places listed above in the Oyster Pay As You Go section.
Oyster and Travelcards: Discounts and Concessions
More Questions About Oyster?
Bus and Tram Passes
You can't put a Bus and Tram Pass on a Visitor Oyster card.
You can get a 7 Day, Monthly or Annual Bus and Tram Pass on Oyster. However, Day Bus and Tram Passes aren't available if you're using Oyster to pay as you go on bus and trams. There is a flat-rate cap regardless of when you travel.
Bus and Tram Passes don't have travel zones and are valid on all tram services and the entire London bus network, including some sections outside Greater London.
London Ticket Prices
The cost of your journey will depend on how you travel, which day you travel, what time of day you travel and which zones you travel through.
Here are some examples of what you might expect to pay:
Visitor Oyster card maximum daily cost for unlimited journeys for adults, after 9:30am Monday to Friday:
Zones 1 and 2 –£6.40
Zones 1 to 4 – £9.20
Zones 1 to 6 – £11.70
Day Travelcard daily cost for unlimited journeys for adults, after 9:30am Monday to Friday:
Zones 1 to 4 – £12
Zones 1 to 6 – £12