34 yellow penguins, on the Vltava River. An installation by the Cracking Art Group in collaboration with Museum Kampa. Photograph: Alamy
Head to Europe on a city break and a museum trip is likely, but why not take a detour from the big hitters and try one of these excellent alternatives instead?


Museum Kampa, Prague
A line of yellow penguins and a group of giant, faceless crawling babies marks the site of Museum Kampa, a modern art gallery on Prague's leafy Kampa Island. The giant babies – by Czech sculptor David Černý – and the surreal penguins,which glow brightly at night, are a popular photo opportunity. Inside is an impressive collection of 20th-century central European art. Opened in 2003, the collection is the work of art patrons Jan and Meda Mládek, whose curation is bright and public-facing: Yoko Ono, Andy Warhol and
Julian Opie
are among the artists who have had temporary exhibitions here.
•
museumkampa.com
. Open daily 10am-6pm, entire museum entrance, adults £5.30, concessions £2.70, under-sixes free
Museum of Bags and Purses, Amsterdam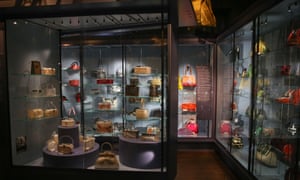 In a grand, beautiful house on the Herengracht, the Museum of Bags and Purses is an indulgent private collection of bags, pouches, suitcases and purses from the past 500 years. Founded by Hendrikje and Heinz Ivo, who began collecting after finding a 19th-century turquoise handbag in an English village, the museum now holds over 5,000 items. Among the collection is a goat-leather pouch from 16th-century France, a 1970s Gucci bag with a bamboo handle, and contemporary examples such as a bright red lip-shaped clutch by Lulu Guinness. For an added touch of class, go for a fashion high tea (€45pp) in the museum restaurant and feast on a Chanel 2.55 (bag-shaped) vanilla cake or a Moschino bon bon.
•
tassenmuseum.nl
. Open daily 10am-5pm, adults €9.50, concessions from €6, under-12s free
Musée Zadkine, Paris
After you've explored the art collections at Paris's major museums, it's worth visiting some of the city's more intimate venues, not least to escape the crowds. Near the Jardin du Luxembourg is the Musée Zadkine, dedicated to the work of the sculptor Ossip Zadkine. This is the home and studio where he and his wife, a painter, worked for almost half a century. Renovated a few years ago, the museum, which also has a beautiful garden, features hundreds of sculptures, paintings and drawings charting the artist's work, and also hosts regular contemporary art exhibitions.
•
zadkine.paris.fr
. Open Tues-Sun 10am-6pm, closed Mondays and public holidays, free
CaixaForum, Madrid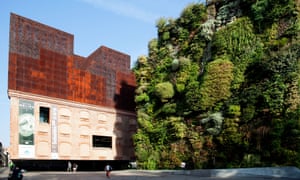 The incredible art collections at Madrid's "big three" museums are a powerful draw, but relative (and nearby) newcomer the CaixaForum is a worthy fourth. The building itself – the work of Swiss architects Herzog & de Meuron – is enough to justify a visit: the converted electrical station has an exterior shell of cast iron, while the house next door has a 24-metre-high green wall, populated by 15,000 plants. Exhibitions draw on the CaxiaForum's collection from the past 40 years, as well as other museums. A current show of ancient Egyptian art and objects featuring animals, put together by an expert from the Louvre, is a good example of the museum's diversity.
•
obrasocial.lacaixa.es
. Open daily 10am-8pm, adults €4, under-16s free
Casa Museu Medeiros E Almeida, Lisbon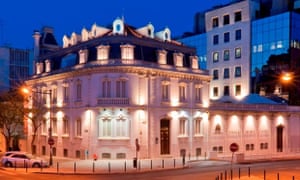 The Casa Museu is home to the private collection of 20th-century businessman António Medeiros e Almeida and is lavishly furnished with chandeliers, gold-framed mirrors and throne-like chairs. Among the ornate objects and fine art on display in its 25 rooms are bronze wall fountains from the Palace of Versailles and a silver dinner service once owned by Napoleon. There's a tapestry room, a silver room, a porcelain room and even a sofa room. The watch and clock room features some ludicrously bejewelled pieces of timekeeping.
•
casa-museumedeirosealmeida.pt
. Open Mon-Fri 1pm-5.30pm, Sat 10am-5.30pm, adults €5, concessions from €3, under-18s free
Vasarely Múzeum, Budapest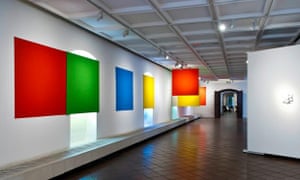 Full of paintings you really can just stare at, the Vasarely Múzeum is one of the key collections from the leader of the op-art movement. In a peaceful part of the city, on the bank of the Danube, the museum has over 400 of Victor Vasarely's works, and also hosts contemporary art exhibitions. After a day sweating in the city's baths, go for a wander around this quiet museum, watching the multicoloured lines, squares and waves morph and breath when you gaze at them. Fun and soothing stuff.
•
vasarely.hu
. Open Tues-Sun 10am-5.30pm, adults £1.90, children 95p
Centrale Montemartini, Rome
There's a playful juxtaposition of classical and modern in this peaceful museum in Rome that positions Greek and Roman sculpture among the turbines, engines and boilers of the city's first public electricity plant. The collision of artistic and industrial "archeology" first happened here in 1997, when a temporary exhibition, the Machines and the Gods, was held at the plant in order to make space at the Capitoline Museums. The intriguing contrast of the sculptures and the setting led to the plant eventually being converted into a permanent exhibition site. It's a mysterious space to explore, and a far cry from the city's traditional museums, not least those in the Vatican.
•
centralemontemartini.org
. Open Tues-Sun 9am-7pm, adults €7.50, concessions €6.50
Hofmobiliendepot Möbel Museum, Vienna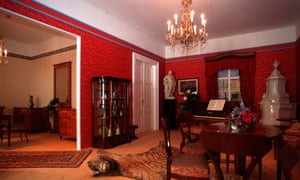 Vienna's imperial furniture collection is an internationally renowned museum with a vast and inspiring collection, originally consisting of furniture owned by the Habsburg royal family. Inside are displays of the flamboyant furnishings enjoyed by the likes of Emperor Franz II and his family, but there are also more oddball selections of interior design, such as the "sanitary furniture" display of chamber pots, commodes and spittoons. Since 1998, when the museum reopened in its current home, there has been a growing collection of modern furniture from 21st-century Austrian designers.
•
hofmobiliendepot.at
. Open Tues-Sun 10am-6pm, adults €9.50, 6-18 years €6, under-sixes free
Muzeum Karykatury, Warsaw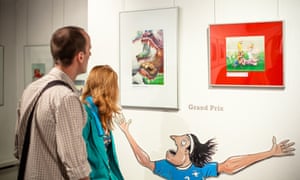 Founded by Eryk Lipiński, a Polish journalist, cartoonist and satirist, the Museum of Caricature is a small site with a big collection: more than 20,000 pieces by artists from around the world. The museum gives an insight into the tastes, humour and graphic styles of cartoonists from the 17th century to the present day. Due to limited space in the 18th-century Orangery, there isn't a permanent display, but the collection is regularly reshuffled. Recent shows included an exhibition of Bulgarian caricature art, political satire and an examination of the unique relationship cartoonists have with the media.
•
muzeumkarykatury.pl
. Open Tues-Sun 10am-6pm, adults £1.30, concessions from 70p
Designpanoptikum, Berlin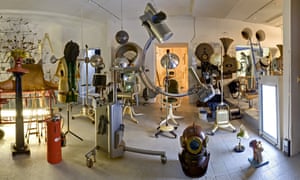 Bizarre, surreal and at times a little disconcerting, the collection inside the Museum of Extraordinary Objects is the work of Russian photographer Vlad Korneev. Korneev, who opened the museum in 2010 and describes it as having a "space-carnival atmosphere", has compiled an unlikely number of retro industrial and medical objects, creating many new contraptions by cobbling together various spare pieces and parts. It's a mix of steampunk, sci-fi and Frankenstein-esque horror, as well as a being a place to reflect on the past; the museum has, for example, a rather ominous looking iron lung, as well as metallic scuba diving kit, dentists' chairs and prosthetic limbs.
•
designpanoptikum.de
. Open Mon-Sat 11am-6pm, adults €7, guided tours every hour on the hour