PHILADELPHIA (WPVI) --
SEPTA says it will hold a lottery for Regional Rail passes for the pope's visit to Philadelphia.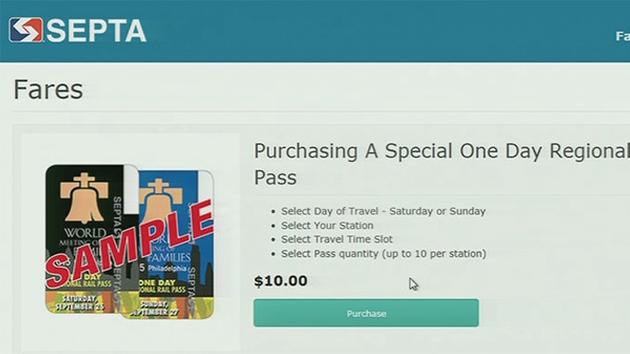 Online registration for the lottery will begin at 12:01 a.m. on Monday, August 3rd.
The lottery will run for 24 hours, ending at 11:59 p.m.
No matter what time you enter your lottery submission, everyone has the same chance for being selected, SEPTA says.
SEPTA offered these instructions on how to enter:
-Any time on Monday, Aug. 3, click the "Enter Lottery" link that will be posted on SEPTA's homepage, www.septa.org. This will take customers directly to the lottery form on Ticketleap's website with an entry form.
-Select travel dates - Saturday and/or Sunday, Sept. 26 and/or Sept. 27;
-Enter up to three preferred outlying Regional Rail Stations
-Pick travel time slot from outlying stations, either 5:30 a.m. -8:30 a.m. or 8:30 a.m.-noon
-Quantity of passes: Customers can request up to 10 each day. Customers with a valid PA Disability Transit ID Card or Medicare Card can request one
-Valid entries will be put in a database and winners selected at random by Ticketleap. Customers with winning entries will receive a "congratulations" email on Thursday. Aug. 6, with a personalized link to a secured page where they can complete their transaction with a debit or credit card. SEPTA will mail the passes to customers.
The first attempt to sell the passes on Monday, July 20th, resulted in the crash of their website.
SEPTA officials told Action News last week that they brought in outside contractors to help with the process and their site was tested for 1,700 hits per second.
They believe the site was receiving three times that amount of traffic after tickets went on sale.
SEPTA is selling a total of 350,000 passes for the weekend - 175,000 for both Saturday, September 26 and Sunday, September 27. The passes are $10.