Something has changed of late. Two years ago, every visit to Glyfada (25 minutes from the Acropolis) meant seeing a freshly abandoned shopfront; now, the tumbleweed feeling has gone and there's a tangible pulse of optimism in this cosmopolitan, seaside town, capital of the Athenian Riviera.
Between Glyfada and Cape Sounion is a run of characterful seaside towns, each with its own flavour, feeding directly off the coastline-hugging Poseidonos Avenue: Voula, Kavouri, Vouliagmeni, Varkiza, Agia Marina, Lagonissi, Anavysso, Saronida. At any one of them, you can experience the kind of island magic that many people come to Greece for, without having to set foot on a ferry: from shopping and nightlife in flamboyant Vouliagmeni to unspoiled craggy beaches in down-to-earth Agia Marina.
The drive from Glyfada to Sounion (just over an hour) has a coarse drama and stirring physicality reminiscent of Australia's Great Ocean Road. To your left, the landscape is by turns bucolic and resort-like. To your right, there's a constant, hypnotic sweep of Aegean Sea, the nearby Saronic Gulf islands etched coyly against the horizon.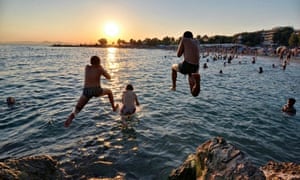 I am frequently humbled by the generosity and neighbourly spirit of the working Greeks in the area. Recently, facing a €400 bill after a fulsome group dinner at one of our favourite spots, and a broken card machine, the owner shrugged easily. "Don't worry," he said. "Just come back and fix me up sometime next week." Shop owners almost always take the time to chat with children (and ply them with sweets), or to help with the (unfortunately frequent) parking space predicaments.
There's also the sense of singular spots yet to be discovered. Last summer, our eighth here, we stumbled upon a wonderful secluded beach cafe bracketed by a pine-studded cove in Vouliagmeni. Even long-time locals can't agree on its exact name. All you need to know is that you take the third left after the Margi hotel at 11 Litous Street, then a short drive down a dirt track until you reach a canopy of Moncafe umbrellas.
There, you can snorkel in clear shallow waters surrounded by darting fish. Sit all day unharried over a lone frappe coffee. Or enjoy a lunch of fresh calamari and Greek salad while fishing boats bob and children lure baby crabs into buckets at the shoreline. All the time not quite believing that you're still in Athens.
---
The upscale district of Glyfada, 16km from Athens, is the most commercial of the Riviera suburbs, thanks to the old airport and a former US military base, which cleared out in the 1990s. Because of its high density of cashed-up expats, pop stars and politicians, Glyfada is sometimes dubbed the Hellenic Hamptons. But its character is also strongly nuanced by the many Greek families who have lived here for generations – in the days when it was an unassuming seaside town (long before the tram line connected it to Syntagma Square and Piraeus in time for the 2004 Olympics).
What to do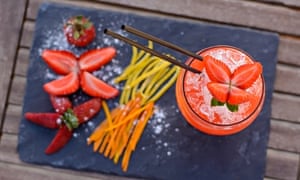 Where to eat
Where to stay
---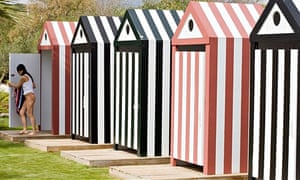 Ten minutes down the coast is Vouliagmeni, the Riviera's crown jewel and probably the best place to base yourself for a longer holiday. With its manicured boulevards, private beaches and nautical clubs, compact Vouliagmeni is easily the most self-aware Riviera postcode. But it's also a great natural beauty that can be explored on foot.
What to do
Where to eat
Where to stay
---
---
A rowdy long lunch by the sea is a summer weekend staple for Athenians and Anavyssos, 32 miles from the city, is a popular Sunday destination. The relaxed town is famous for two things: windsurfing and its seafront fish tavernas. You're in the right place when you spot the waiters endangering their lives by dashing across the street to collect orders from the kitchens.
---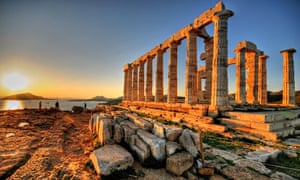 How to hit the beach Athenian-style
Riviera fish restaurants price their speciality fish by the kilo (bones and all), which can blow the bill unexpectedly high. Most people find that half a kilo of fish, rather than a whole kilo, is sufficient for two people.