Readers of Travel + Leisure magazine have had their vote on the world's best destinations, with Kyoto, the Galapagos and an Indian hotel coming out on top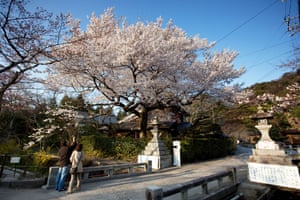 Cherry Blossoms along Testugaku-no-Michi (The Path of Philosophy) in Northern Higashiyama, Kyoto. Photograph: David Levene for the Guardian
The city of temples and gardens was described by the magazine as offering the "quintessential Japanese experience". It offers visitors everything "from history (in the form of spiritual shrines) to notable cuisine (shojin ryori) and encounters with the infamous Geisha dancers", the magazine said.
Readers were asked to judge destinations on factors including culture, food, friendliness, shopping and landmarks and rate them out of 100.
Rooms for the the hotel, comprising of interconnected domes and corridors, overlooking a series of lakes, start at around $500US a night.
The best airport was Singapore's mammoth Changi airport with a score of 89.55, followed by Hong Kong International airport then Schiphol in Amsterdam, at number 3.
The full list of winners is published in the magazine's August issue.