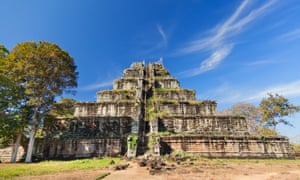 Ancient Khmer pyramid in Koh Kher, Cambodia. Photograph: Alamy




Done Pompeii, Ephesus and Angkor and still thirsting after archeological marvels? The founder of
Timeless Travels
magazine recommends 10 less well-known sites that can usually be savoured without the crowds




Koh Ker, Cambodia
Lost to forest and abandoned for over a thousand years, you'll find this little-visited site in northern Cambodia. It's less than two hours' ride from its more famous cousin, Angkor Wat, and well worth a visit to see more than two dozen temples emerging from the jungle. A highlight is a seven-tiered pyramid, 40 metres high, which is thought to have been the state temple of Jayavarman IV and is often compared to Mayan temples. The site was the capital of the whole Khmer empire from 928-944AD.
•
A new road means day trips to Koh Ker are possible from Siem Reap, but there are also now a few basic guesthouses and an
ecolodge
for those who want to stay longer
Choquequirao, Peru
Little sister to the better-known Machu Picchu,
Choquequirao
is one of the most-rewarding travel destinations in the Americas. Only a few hundred people visit during the dry season (May to October), compared with thousands each day at Machu Picchu. At 3,000m, the site sits on a cloud-forest ridge, 61 miles west of Cusco in the remote Vilcabamba range. The city was built by Topa Yupanqui, son of the man who built Machu Picchu, Pachacuti, some time in the 15th century. It's a two-day trek to Choquequirao from the town of Cachora (
though a cable car link is planned
), and exploring it and the outlying sites of Capullyoc, Hurincancha and Casa de Cascada with a guide will take several days.
•
Buses run from Cusco to Ramal, close to Cachora, where guides and pack mules can easily be hired
Ani, Turkey
There are some wonderful treasures in the far east of Turkey and one of them is the site of Ani. Capital of the Armenian Bagratid dynasty until the 11th century, and situated on key trade routes, it flourished for over 400 years and at its peak was larger than any contemporary European city, with a population of over 100,000. It was destroyed by an earthquake in 1319, and today its ruins are spread over a wide area, with the remains of spectacular churches, a Zoroastrian fire temple, palaces and city walls. Take a picnic and spend a day exploring the site.
•
Ani can be reached by taxi or hire car from the town of Kars, 46km away and served by internal flights from Ankara or Istanbul
Conimbriga, Portugal
This is one of the largest Roman settlements in Portugal – roughly halfway between Lisbon and Porto, near the village of Condeixa-a-Nova. It was a prosperous town in Roman times and, while not the largest Roman city in Portugal, it is the best preserved. Although only a small section of the site has been excavated, there are baths, luxurious houses, an amphitheatre, a forum, shops, gardens with working fountains and city walls to explore, with many wonderful mosaics still in situ. In its centre is one of the largest houses discovered in the western Roman empire, the Casa de Cantaber, which is built around ornamental pools in superb colonnaded gardens and has its own bath complex and heating system. There is also a good museum, cafe and picnic site. Pick up a guidebook from the museum and have a few euro coins in your pocket to make the fountains work.
•
Easyjet
and
Ryanair
fly to Porto and Lisbon from about £50 return
Han Yangling, China
A smaller version of the Xi'an terracotta warriors, this often-overlooked site is the the tomb of E mperor Jing Di , who died in 141BC, and his Empress Wang. The site, 20km north of Xi'an, is well laid-out, with glass panels over the burial pits so you can see everything in situ, and there is also an excellent museum. The warrior figures here have individual faces; their arms were made of wood and they wore clothes. Sadly, both have disintegrated now, though examples can be seen in the museum. The pits are filled with figurines of courtiers and animals, and you can see the fossilised remains of wooden chariots.
•
Han Yangling is easily reached by taxi, from Xi'an international airport (25 minutes)
Pella, Jordan
Frequently bypassed for the larger sites of Jerash and Umm Qais , Pella, in the north Jordan valley, is a multi-period site, occupied since neolithic times. It has some stunning Roman/Byzantine remains, and recent excavations have unearthed a Canaanite temple dating from 1700BC and early-bronze-age city walls dating from 3200BC. Take the time to climb to the top of Tell Husn, the southern mound overlooking the dig house, and you will be rewarded with a fantastic view across the excavations and the Jordan valley.
•
The site is 45 minutes by road from the city of Irbid (two hours from Amman). Buses run from Irbid to the present-day village of Tabaqat Fahl
Vatican Necropolis, Italy
Beneath the Vatican City lie the ancient streets of Rome and an ancient burial ground, the Vatican necropolis – originally a cemetery on the southern slope of Vatican Hill. Saint Peter is said to be buried here, after he was martyred in the nearby Circus of Nero. Emperor Constantine I built a basilica above the apostle's grave in the fourth century AD, and excavations in the 1940s did find a number of mausoleums. To walk at ancient street levels through the necropolis is an exciting experience for those who love to step back in time.
•
Visits must be booked with the Vatican
Excavations Office
. Tours, in groups of about 12, last 90 minutes
Takht-e Soleyman, Iran
Takht-e Soleyman, meaning Throne of Solomon, is a breathtaking site built around a mineral-rich crater lake 30km north of Takab in Iran's West Azerbaijan province. The earliest remains date from the Sasanian period, from 224 to 651AD. Set in a vast, empty landscape 2,000 metres above sea level, the site includes the remains of a Zoroastrian fire temple complex and a 13th-century Mongol palace. It is surrounded by an oval wall with 34 towers and two gates. The lake is 60 metres deep and so filled with minerals that it contains no life and is undrinkable. Don't miss the small museum, housed in an Ilkhanid (a 13th-century building), with fine examples of tile, ceramics and stucco decoration.
•
The site is about two hours by taxi from the city of Zanjan, which is served by buses and trains from Tehran
Fatehpur Sikri, India
This surprisingly intact walled and fortified Mughal city is 40km west of Agra and the Taj Mahal in Uttar Pradesh. Built by Emperor Akbar in 1571, it was the Mughal capital for 14 years before being abandoned for lack of water. A stunning royal complex of pavilions and palaces include a harem, a mosque, private quarters, gardens, ornamental pools, courtyards and intricate carvings. It is the best-preserved collection of Mughal architecture in India. Don't miss the Rumi Sultana palace, the smallest but most-elegant structure in the complex, and the secret stone safes in the corner of the Treasury, which also houses a museum opened just last year.
•
The complex is an easy day trip from Agra: take a bus or train to Fatehpur station, 1km from the site
Pula, Croatia
The amphitheatre of Pula is the only Roman amphitheatre to have four side towers and all three levels preserved. Built between in 27BC and 68AD, it is one of the six largest surviving Roman arenas in the world, and the best-preserved ancient monument in Croatia. Overlooking the harbour in the north-east of the town, it seated 20,000 spectators. In summer there are weekly re-enactments of gladiator fights, and it is also used for plays, concerts and the September
Outlook festival
. Look out for the slabs that used to secure the fabric canopies that sheltered spectators from the sun.
•
Ryanair
flies to Pula from Stansted from £117 return