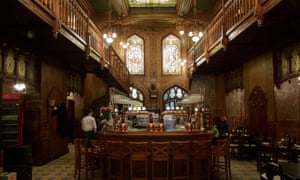 Caru' cu Bere is traditional Bucharest bar and restaurant popular with both tourists and locals.
It's fair to say that Bucharest is unlikely to win any awards for beauty or style, yet the Romanian capital surprises many first-time visitors with its cosmopolitan vibe and energy.
During the period between the wars, Bucharest's epithet as the "Paris of the east" was accurate, up to a point. However, today's cityscape is largely one of imposing socialist architecture, the result of former dictator Nicolae Ceauşescu's savage redevelopment project during the 1980s – the bleakest of communist years for Romanians.
Things are much brighter these days, however, and lurking among this tangle of concrete are some wonderful art nouveau buildings (many housing terrific museums), ancient churches and monasteries, lush parkland, lakes and elegant boulevards. Bucharest's culinary scene is at last worth getting excited about, while the city has few peers anywhere in the Balkans when it comes to nightlife.
Above all, though, the old town – also called Lipscani after the main street that crosses the area – has become the city's go-to party place and, on any given night, you'll find the bars full to bursting.
With the ferocious summer heat just a hazy memory, late autumn is the perfect time to explore this compelling city's unexpected delights.
What to do and see
Where to eat
Where to drink
Where to stay