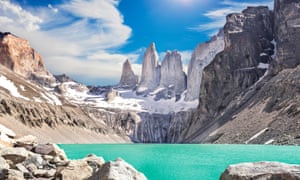 The Torres del Paine mountains in Patagonia, southern Chile. Photograph: Alamy
For my first forays into Patagonia, in the 1990s, I left behind my guidebooks and travelogues. Travelling light, I was blown away by big, jagged mountaintop glaciers and – more literally – the fierce westerlies that gusted summer long. Between the gawping and the roast lamb dinners, I struggled to make sense of German settlements, Tehuelche place names, Anglophile ranch-owners and ruddy Welsh faces on the coast; crossing the empty steppe, I wondered why any of these would come to such an arid, godforsaken
place to make a home.
Argentinian Patagonia: coast
The most southerly important landmark on the coast is Puerto San Julián. It is here that Portuguese explorer Ferdinand Magellan made landfall in 1520, encountering the tall Tehuelche tribesmen whom he called Patagones, after a mythical character in a chivalric tale, leading to the region's name. There is a fine 12km coastal walk here from the town centre to the abandoned Swift meatpacking plant.
There's little reason to go further south than this unless you're driving and bound for Cabo Virgenes, at the southeastern-most tip of mainland Argentina. This dramatic cape looks out over the Atlantic and the Strait of Magellan – the Estancia Monte Dinero is open to visitors and runs the cosy Al Fin y Al Cabo cafe-bar at the foot of the lighthouse, with sweeping views over the ocean. There's another huge Magellanic penguin colony nearby.
Where to stay
Argentinian Patagonia: Andes
A popular excursion from here is a through-Andes ferry-and-bus ride to Puerto Varas in Chile, allowing you to see the further reaches of the lakes that are inaccessible by road. Operated by Cruce Andino (cruceandino.com), a single costs £146.
Bariloche is a natural starting point for a drive south along Argentina's Ruta Nacional 40. This long, largely paved highway actually runs the length of the country, skirting the Andes, and the Patagonian section runs past all the towns listed below.
Where to stay
Chilean Patagonia and Tierra del Fuego
To the south is genuine wilderness, with the main road interrupted by river crossings. A drive down the 1,247km Carretera Austral (Southern Highway) from Puerto Montt to Villa O'Higgins is a great way to see the lushly forested Palena and Aysén regions, and Lago General Carrera, the second biggest lake in South America. Four-wheel-drive vehicles are recommended, and you'll need at least 10 days; it's wise to book some accommodation beforehand, especially in the holiday months of January and February.
Where to stay