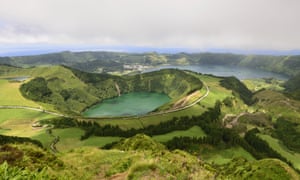 The volcanic, yet green, landscape of the Azores on show at Sete Cidades, São Miguel. Photograph: Getty Images/Moment Open
Here, somewhere between Lisbon and New York, the weather is mild but decidedly unstable. Atlantic fronts barrel in, clouds tussle, shafts of sunbeams and great fat silvery pools of light chase over swelling seas to fields of infinite greens. For the Azores you pack a cagoule and sunglasses, your swimming gear and walking shoes, for you're never more than a few minutes from a dramatic basalt seashore or an alluring grassy pathway.
Time slows down here: the locals count it in hundreds of thousands of years, in terms of the volcanoes that together have formed the Azores. Being at the junction of the Eurasian, North American and African tectonic plates, the Azores are a geological hotspot: when seen from its highest point, each island is a Clanger-land of chimneys and craters where you could believe entire civilisations of sprites and elves live among the fat, dappled cows.
The islands' beauty is rare, and timeless; the volcanoes bring to mind the Miocene epoch, but in human terms there is a sense of 1950s-era innocence. The continuing restless volcanic activity seems to fill you with radiant energy and the salty, clean winds treat you to the world's best free facials. There's whale watching, swimming with dolphins, and diving with manta rays to be had, plus canyoning and kayaking. You can walk inside volcanoes, and around them, and drive along empty roads fringed with millions of azaleas and hydrangeas.
Each island is unique – and independent-minded. There are no resorts, but plenty of honesty bars. The locals' first thought is to trust you, then to welcome you. I visited three of the main islands; my final Azorean thought was that I was mad to leave without seeing them all.
São Miguel
Flying in, my sense is that the island floats along on a fast, froth-topped sea. Intensively rippled and peaked as it is, São Miguel's surface seems constantly in motion, too. With almost 50,000 inhabitants and a thriving university, its handsome capital, Ponta Delgada, also feels like it's on the move. It offers great eating and meandering – and I manage a great deal of both.
Santa Maria
Terceira
The town centre botanic garden is where students from the tiny uni and gossiping men in leather-front cardigans take their ease. There's a grid of pretty shopping streets where almost every second address offers something tasty to eat or drink; the sea glimmers and above, Monte Brazil – the remnants of a volcano – is an essay in green. Angra wears its history with grace and quiet panache, and in today's contrast-rich Atlantic light, feels like a poem, shot in Technicolor.
The nine main islands at a glance
Way to go