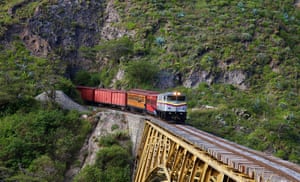 On track …Tren de la Libertad, Ecuador
Classic trains such as the Orient Express and Trans-Siberian have the name and the fame, but there are hundreds of lesser-known – and more-affordable – rail journeys that are their equal when it comes to stunning scenery
Tren de la Libertad, Ecuador
Ecuador's Train of Freedom travels between Otavalo, Ibarra and Salinas in the northern part of the country. Recently renovated, the line passes through the Chota valley, along narrow mountain ledges, hair-raising bridges and lengthy tunnels and offers a gentle ride through spectacular natural surroundings. The train itself is a heritage piece, consisting of red wooden carriages pulled by a silver diesel engine emblazoned with the Ecuadorian colours along its sides.
•
Tourists can book on a day-long tour for $45 (about £30), including stop-offs and guides
,
trenecuador.com
Jasper to Prince Rupert, Canada
The VIA Rail train service between Jasper and Prince Rupert treats its passengers to beautiful views of the
Jasper national park
, the Canadian Rockies and the Pacific Coast. It's a two-day journey, which includes an overnight stop-off at Prince George. Those in it for the ride can book seats in the touring class carriages, which are added during peak period of mid-June-September. There you can enjoy panoramic views thanks to extra large windows and reclining seats, as well as a full meal service and complimentary wine. That's not to say the views are any less impressive for those riding in economy.
•
One-way economy from £70 single, touring £283, viarail.ca
Spirit of the Outback, Australia
An epic bi-weekly service that runs along 1,325km of track, the Spirit of the Outback lets you experience Queensland's baking desert countryside – mountains, plains and coast – from the comfort of an air-conditioned carriage. Launched in 1993, it travels from Brisbane to Longreach, via Rockhampton, also taking in historic outback towns. There's a dining car and galley car to kick back in during the 24-hour journey.
•
One-way economy fares from £78. Departs Brisbane Tue, Sat; departs Longreach Mon, Thurs. queenslandrailtravel.com.au
Nice to Digne les Bains, France
The last route to remain of the four historic Train des Pignes railways in southern France, the Nice to Digne line is a scenic three-hour ride through mountain passes and alongside fast-flowing rivers. Opened in the 1890s, the line is 151km long and includes an impressive number of tunnels – 27 in total – and one that's 3.5km long. The stations themselves are small, quaint affairs, often decked out with flower boxes and vintage clocks.
•
One way £17, trainprovence.com
Belgrade to Bar, Serbia and Montenegro
Connecting the Serbian capital with the seaport of Bar in Montenegro is a stunning railway line that's well known to train buffs but barely heard of among regular travellers. The train rolls along 476km of track through the mountains of Montenegro, with about 250 tunnels and more than 400 bridges to keep you entertained along the way. Some of the viaducts you'll cross are particularly dramatic - the Mala Rijeka Viaduct is almost 200 metres high and half a kilometre in length.
•
One way £18, serbianrailways.com
Fianarantsoa to Manakara, Madagascar
This tropical train ride takes passengers through the lush jungle in the south-east of the island, along a railway built in the late 1920s. It's not a glamorous journey; the carriages are run down and some of the track is reported to date back to the 1890s, but this snail-rail adventure is the best way to explore this part of Madagascar. And when we say snail rail, we really mean it. The line may only be 160km in length, but it can take anything up to 12 hours to make it to the end.
•
Adult single, first class, £6. First-class bookings can be made by emailing Fianarantsoa Cote Est seven days before departure at fce@blueline.mg or by phone on +261 20 75 513 55. You have to reconfirm your ticket at least one day prior to departure.
Yatsushiro to Hayato, Japan
A rail pass is the best way to travel cheaply around Kyushu, Japan's third largest island and home to one of world's largest active volcanoes. Amid the rocky terrain, you'll find one of the country's most scenic rides, along the JR Hiatsu line from Yatsushiro to Hayato. The route passes through spectacular, ever-changing scenery, rolling past the glowing Kumagawa River as it snakes through valleys, as well as taking in views of the Kirishima mountain range, where the active volcano Mount Sakurajima smoulders away.
•
JR Kyushu rail pass from £81, japan-rail-pass.com
Curitiba to Paranaguá, Brazil
Built in the 1880s, this winding line meanders through the Serra do Mar mountains along Brazil's south-eastern coastline. Considering the geography, the railway is an astonishing piece of engineering; though less impressive is the fact half of the men who were employed to build the line died during its construction. The three-hour, 100km-long journey on the Serra Verde Express takes passengers through 14 tunnels and across 30 bridges, including the Carvalho Viaduct, with views of vibrant, green rainforest all the way. As well as being a rare chance to go on a rail adventure in Brazil, the train is also the best way to get yourself to the historic town of Morretes, where you can tuck into a lunch of
barreado,
a beef stew that's a speciality in the state of Paraná.
•
Adult single £18, service to Paranaguá only runs on Sundays,serraverdeexpress.com.br
Colombo to Kandy, Sri Lanka
Connecting Sri Lanka's capital on the coast with its second largest city, Kandy, in the heart of the island, is a beautifully scenic train up into the tea plantations of Central Province. As the train leaves Colombo, you'll roll past jungle and rice fields, eventually climbing up into the forests surrounding Kandy, 500 metres above sea level. The 121km journey can be made daily on a range of trains, some with privately run luxury carriages attached.
•
Adult single between £3-£8, exporail.lk and rajadhani.lk
Gloggnitz to Mürzzuschlag, Austria
Austria's Semmering railway is a masterpiece of civil engineering, venturing through tunnels and over viaducts as it travels through the mountains of east Austria. Over 100 bridges punctuate the line, which was built between 1848 and 1854, and was awarded
Unesco world heritage status
in 1998. The man behind its construction, Carlo di Ghega, was an engineer who was a pioneer of modern railways - the Semmering line is often described as the world's first true mountain railway. Given the picturesque, wooded countryside it passes through, the Semmering line is a bit like an ambitious Hornby railway set come to life.
•
Adult single from £6.50, oebb.at