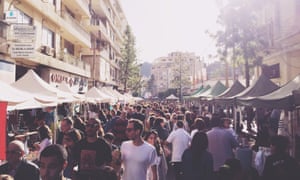 A street market in Mar Mikhael, Beirut … Photograph: Nasri Atallah
A beautiful, rowdy, intoxicated mess.
Sound of the city
The car horn. Everyone in the city has their hand poised just above it ready to communicate all sorts of emotions. We've actually developed an entire non-verbal lexicon. A long beep expresses anger, two short ones are a hello to the local greengrocer, and so on. You can even express political allegiances by playing a tune. I wish they'd have every car horn removed when cars are imported. I think it would make the place friendlier and save everyone a lot of money on whisky and Xanax.
Everyone's tuning into …
In this clip, a TV chef who has been on screen for about as long as I can remember performs a culinary-themed duet with pop star Fares Karam.
Best venue
Who's top of the playlist?
What's the look on the street?
Best local artist
First of all, he's openly gay. A lot has been already made of that in the international press because it's a neat headline – and it is undoubtedly brave to live in Lebanon and go on the cover of one of the leading gay magazine in Europe – but he's about far more than that. He's very active and vocal about social issues, and incorporates his thinking about the world into meta-narratives that feed back into his music.
There's something almost academic to his art, an intense desire to understand the root causes of injustice and intolerance, coupled with a drive to do something about it through art.
Best cultural Instagram account
What does Beirut do better than anywhere else?
Comedy gold
Moment in history
There's no YouTube footage of it (that I can find) but here's an extract from a musical film she made that has the same theme of village life.
What's the big talking point?
Best street art
From me
Five to follow