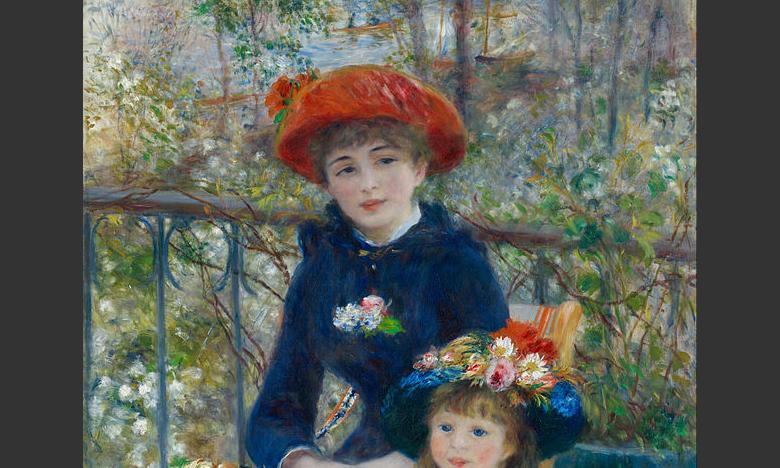 Held from 16 April to 26 September 2016,
the third Normandy Impressionist Festival will continue the direction taken by the two previous editions, which attracted 1.8 million visitors
.
This vast array of
cultural activities, exhibitions, live shows, dance performances, operas, guinguettes, film programmes and seminars
will attest the cultural vitality of Normandy to its French and international visitors.
The theme for 2016 is Impressionism in portraits
: portraits in the classic sense of the term but also in more contemporary interpretations.
The goal is to place the human element at the heart of the Festival
: though portraying a period in the nineteenth century with its society, recreations, women, children and artists, the Festival is also interested in contemporary versions of the portrait, like selfies. It explores the notion of representation, of oneself and others, as well as its value, message and significance 140 years on.
MAJOR EXHIBITIONS
:
Gustave Caillebotte, Painter and Gardener
Musée des impressionnismes
Giverny
March 24 to July 3, 2016
Caillebotte, long considered a wealthy amateur painter, collector and the patron of his Impressionist friends, is today seen as one of the group's major figures. A large part of his work was dedicated to gardens. Some 100 paintings, drawings and sculptures will reveal many inspirations for his art, from the Paris of Baron Haussmann to Yerres, from the Seine to Le Petit Gennevilliers and his garden, and his relationship with Monet.
Exhibition curator: Marina Ferretti
Bernard Clarisse
Musée de Dieppe
April 16 to June 5, 2016
Bernard Clarisse, a contemporary painter, has embarked upon the portraits of the great artists and thinkers of our generation and past centuries. The musée de Dieppe will present those important individuals who frequented or lived in Normandy, including those strong personalities from the Impressionist age in Dieppe. Bernard Clarisse renders manifest the creative force and influence that these individuals had on the arts by painting their portraits 120 cm in height, and superimposing the word MEGAS (Great) in gold Greek letters on the figure's forehead.
Exhibition curator: Pierre Ickowicz
Caillebotte, an Intimate Portrait of a Norman Family
Musée d'Art et d'Histoire Baron Gérard (MAHB
)
Bayeux
April 16 to September 18, 2016
Gustave Caillebotte (Paris 1848 - Gennevilliers 1894) is mainly known for his paintings of the Paris region and the Seine estuary. The exhibition focuses on a different aspect of the character: his attachment to Normandy, the setting to his family's history. The representation of his relatives was a theme dear to the artist. The painting Portraits à la campagne, held at the Baron Gerard Museum of Art and History, is one of his more personal works and is therefore naturally the main thread of the exhibition.
Exhibition curator: Dominique Hérouard
Scenes of Impressionist Life
Musée des Beaux-Arts
Rouen
April 16 to September 26, 2016
Portraiture lies at the heart of this display of about 100 paintings by Manet, Monet, Renoir, Cézanne, Degas, Caillebotte, Fantin-Latour, Morisot, Cassat and many more. Sculptures, photographs and personal letters too will help lift the veil on the personal worlds of the great masters. Beyond a narration of the private lives of outstanding artists, this exhibition of masterworks will shed light on major developments in French society during the 19th century in terms of the status of women and children and the role of the artist.
Exhibition curator: Sylvain Amic
Jeanne Forain, Portraits of an Epoch
Musée Alfred Canel
Pont-Audemer
April 16 to September 26, 2016
Less well-known than the Impressionist painter JeanLouis Forain, her husband, Jeanne Bosc-Forain (Paris,1865–Le Chesnay, 1954) was nevertheless a painter and sculptor of talent. The exhibition to be presented at the musée Alfred Canel will be the first dedicated to her work and show some forty works from private and public collections.
Exhibition curator: Mathilde Legendre
Frits Thaulow, Landscapist by Nature
Musée des Beaux Arts
Caen
April 16 to September 26, 2016
This is the first retrospective of the work of Frits Thaulow (1847–1906), leader of the Norwegian painters in France during the Impressionist and Postimpressionist years. A cousin of Edvard Munch and the brother-in-law of Gauguin, Thaulow adopted nature as his central theme, and his body of work is characterized by "pleinairisme" and "atmospheric" painting that does not abandon the ecological and humanist vision of the countryside typical of Scandinavian culture. The exhibition also looks at Thaulow's European and American career and the generation of artists affected by his genius, including Monet, who traveled to Norway in 1895.
Exhibition curators: Caroline Joubert, Franck Claustrat and Emmanuelle Delapierre
The Studio of Light: Portrait of Eugène Boudin
Musée d'Art Moderne André Malraux
Le Havre
April 16 to September 26, 2016
Throughout his life Eugène Boudin was a writer. His letters, notebooks, journals and even a short autobiography tell us about the man, his relationships, his profession and his artistic ambitions. This exhibit will compare approximately 100 works (watercolors, pastels, drawings, paintings) of this pioneer of Impressionism with the thoughts and aspirations contained in his writings, many of which deal with his desire to master the depiction of natural light.
Exhibition curators: Annette Haudiquet. Scientific committee: Laurent Manoeuvre and Anne-Marie Bergeret
Under the Norman sun...In the footsteps of Paul-César Helleu (1859–1927)
Musée des Beaux-Arts de Saint-Lô
Saint-Lô
Relive the atmosphere of the seaside during the Belle Epoque through the work of Paul-César Helleu! A draughtsman and painter, and friend of the Impressionists, Helleu was lionized by society for his portraits of the most elegant women of his time. Bathing huts, seaside excursions, Parisian interiors, Norman beaches, his works plunge us into the social activities around the turn of the century.
Exhibition curator: Robert Blaizeau
Félix Buhot (1847-1898), Painter of Atmospheres
Musée Thomas Henry
Cherbourg-Octeville
June 9 to September 11, 2016
Originally from Valognes, a small, charming town some 20 kilometres from Cherbourg, Félix Buhot spent his life between Paris, the Normandy coast, England and Brittany. His works, produced at the same time as those of the Impressionists, embraced a wide variety of techniques, taking in oil paintings, gouaches, watercolours and prints on a series of repeated subjects. Buhot focused his attention on capturing the atmosphere of the places around him, attempting to "see superb things that others are unaware of"
Exhibition curator: Louise Le Gall
Sickert in Dieppe
Musée de Dieppe
June 25 to September 26, 2016
Walter Sickert (Munich 1862 – Bathampton [UK] 1942), an English painter born to a German-Danish father and English mother, is by far the most renowned of the artists who visited our town in the late nineteenth and first half of the twentieth century. A close friend of Jacques-Émile Blanche and a pivot of French and British culture, Sickert was a key contributor to the evolution of British painting to modernity based on a combination of his own Whistlerian heritage and the Impressionist movement, in the wake of Camille and Lucien Pissarro. Having already known Dieppe as a child, between 1885 and 1933 he was to spend a great deal of his life in the town.
Exhibition curators: Pierre Ickowicz and Delphine Lévy
Being Young at the Time of the Impressionists (1860–1910)
Musée Eugène Boudin
Honfleur
June 25 to October 3, 2016
www.musee-eugene-boudin.html
This display of both portraits and genre scenes will round out an understanding of what it meant to be young, especially in Normandy, during the years 1860–1910, including from the time from when one was cradled in one's mother's arms to the embrace of one's future partner. The classical traditions of portraiture stemming from the 18th century - such s imagining the subject of a painting as a mythological or religious hero - will be represented, as will, at the other extreme, the aesthetic novelties of naturalism. Impressionism, the link between the two extremes, will also sit in the mix.
Exhibition curators: Anne-Marie Bergeret and Dominique Lobstein
Sorolla, a Spanish painter in Paris
Musée des Impressionnismes
Giverny
July 14 to November 6, 2016
In 1906, Spanish painter Joaquín Sorolla exhibited for the first time at the galerie Georges Petit in Paris, one of the main impressionist galleries. The exhibition was a resounding success and helped establish Sorolla's international reputation. His masterful rendering of light effects led critics to view Sorolla as an impressionist painter. This exhibition demonstrates how he created a surprising, innovatory style in late 19th-century Paris. The musée des impressionnismes Giverny brings together around 100 paintings, including 50 oil sketches featuring landscapes, portraits and beach scenes, subjects for which he became famous.
Exhibition curators: Blanca Pons-Sorolla and Maria Lopez Fernandez