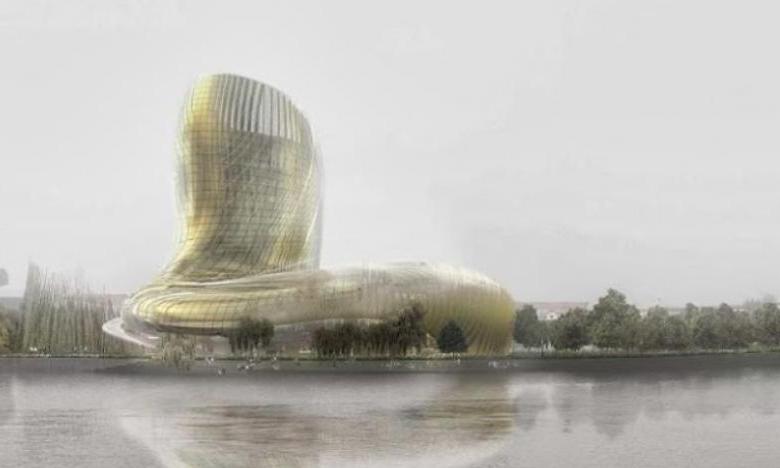 The Bordeaux-based wine museum and cultural center known as La Cité du Vin (
www.laciteduvin.com
) will open its doors on June 1, 2016. It will draw visitors into an unparalleled discovery of wine-growing civilizations from all over the world.
The value of the Cité du Vin is anchored in two propositions: the construction of a world-class museum in a building with remarkable architecture uniquely suited to its purpose; a spectacular voyage through time, history and the cultures of the world to learn about wine.
Located on the banks of the Garonne River, the Cité du Vin is a monument to be marveled at before you even step inside. An original design from Parisian agency XTU, the bold architecture was intended to stand out in a crowd of both great international museums in other cities and majestic facades in Bordeaux. The shape of the building is said to symbolize the spiral flow of wine swirling in a glass. With a belvedere rising 180 feet above the ground (and a viewing platform 115 feet up on the 8th floor), the riverside structure will be decorated with 3,000 iridescent aluminum panels that catch and mirror the changing reflections of the adjacent river to which Bordeaux and its wines owe their prominence.
Inside, temporary and permanent exhibitions will lead visitors on a journey through time (from 6,500 BC to the modern era) to gain an understanding of the wine-growing cultures of five continents. This tour will be divided into 23 exhibition modules, covering everything from "The Vineyards World Tour" and "The Changes of Wine" (from grape seed to wine) to "The Buffet of the Five Senses" (tasting), wine and art, and even health and religion.
The latest technological innovations are being used in the scenography, including 3D images, holograms, smell diffusors, music and other interactive tools. The end result is an immersive, multi-sensory experience accessible via individual handset guides issued to each visitor. These will deliver explanations in real time in the user's selected language (eight are available), triggered by a device that detects the wearer's position and sets off the appropriate multimedia content.
The 450,000 visitors expected in the first year will also be able to make the most of shops, restaurants and a wine tourism service for further information about and tickets to the surrounding vineyards. A five-star hotel with 150 rooms, a shopping centre and a boat shuttle service will expand the site even further.
With all of this in place, the Cité du Vin hopes to become the flagship tourist attraction and cultural hub of Bordeaux.