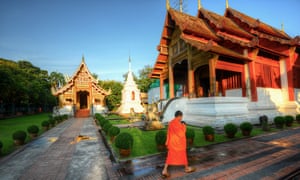 Wat Phra Singh, Chiang Mai, Thailand. Photograph: Ashit Desai/Getty Images
With long, leafy boulevards, Chiang Mai presents an alluring alternative to the Thai capital, Bangkok. Instead of traffic-choked urban sprawl, travellers find a picturesque downtown easily navigated on foot, where the air is clean and the climate mercifully cool. A short bike or scooter ride out of the town leads to a densely rainforested countryside interspersed with waterfalls. Since the local airport received an upgrade in 2014, more regional flights have been heading to this serene city, making it cheaper and easier to reach.
The old town, inside its moat, is an extraordinary vision. Here amid the 30-odd temple spires, barefoot monks in flame-coloured robes collect alms in the morning and street vendors sell their wares by night.
Contrary to what all the English-language signs offering yoga courses and trekking tours might have you believe, the ancient capital city harbours a vibrant contemporary scene. A spate of new galleries, co-working spaces and artsy cafes are giving creative people space to showcase their work.
To visit the city's modern side, head just beyond the centre to studenty Nimmanhaemin Road, with its boutiques, galleries, coffee shops and myriad restaurants. The pace of life may have speeded up in recent years as the city's grown, but Chiang Mai is still a city of quiet charms, best absorbed at a leisurely pace.
WHAT TO SEE AND DO
Learn traditional skills
Heed the call of the wild
Support the arts
Hit the markets
See the best of the temples
Take a trek
WHERE TO EAT
Blackitch Artisan Kitchen
Farm Story House
Rustic & Blue
David's Kitchen at 909
WHERE TO DRINK
Mixology Chiangmai Burger
We Didn't Land on the Moon Since 1987
Akha Ama
The Service 1921 Restaurant & Bar
FABB Coffee Roasters
Beer Republic
WHERE TO STAY
Ping Nakara Boutique Hotel & Spa
Sala Lanna Chiang Mai
Rachamankha
Non@Chiang Mai hostel
Zensala Riverpark Resort