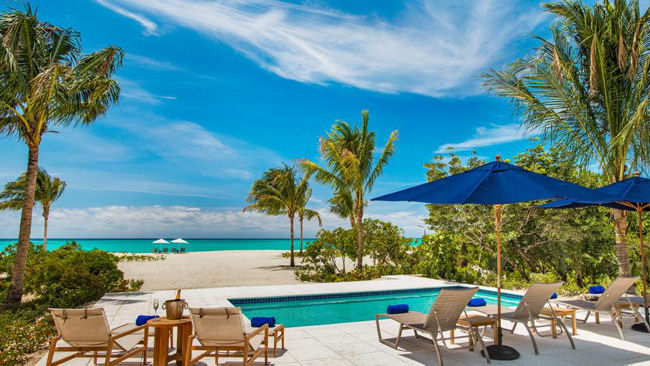 Summer is here and it's time to hit the beach. Here is our selection of exquisite beach retreats for you to enjoy this summer…
TURKS AND CAICOS, CARIBBEAN
Why: Embrace the relaxed lifestyle as you enjoy your time in this peaceful desert-island paradise.
Sleep: Beach House at Hawksbill, Grace Bay
This fabulous two bedroom property is spacious and ideal for a couple's retreat, getaway with friends or a small family. Relax in your private pool just footsteps from the white sands and stunning Caribbean sea. It is possible for the Beach House to be rented out alongside the neighbouring villa, transforming into "Hawksbill Estate".
QT Tip: If golf is your passion, the Provo Golf Club is right on your doorstep…
Beach Antigua
ANTIGUA, CARIBBEAN
Why: Friendly islanders, beautiful boats and alluring white beaches with crystal clear waters are just a few of the things that makes Antigua so enticing.
Sleep: Mariposa, Jumby Bay
Located in the wonderfully secluded Buckley Bay, this eight-bedroom property boasts superb views. Your stay at Mariposa includes the services of a chef, butler and housekeeper, leaving you free to simply enjoy your own private beach resort.
QT Tip: Enjoy a private sunset cruise and sail past the beautiful Nelson's dockyard whilst sipping on rum punch.
Beach Phuket
PHUKET, THAILAND
Why: Nai Thon is known for its peaceful and breathtakingly beautiful beach; a real contrast from the hustle and bustle of other tourist-filled beaches on the island.
Sleep: Villa Bianca, Nai Thon
This truly unique three-bedroom retreat is ideal for a trip with friends or family. Alternatively, use the whole villa as the setting for a decadent Thailand honeymoon. Your holiday at Villa Bianca includes a chef, butler, driver and sessions with a spa therapist in the villa's spa and massage room.
QT Tip: From Samet Nangshe Viewpoint, you'll experience one of the most incredible panoramas in Phang Nga. Being far away from civilization and avoiding light pollution, you might be lucky enough to see the Milky Way.
Beach Croatia
NOVIGRAD, CROATIA
Why: This charming town not only has a rich cultural heritage and preserved natural beauty, but is also an architectural jewel home to astonishing historical sites.
Sleep: Villa Sunset Paradise
Surrounded by the ancient city walls, this four-bedroom villa is an exquisite find. Minutes away from restaurants, shops and bars but in a secluded beachfront location, Sunset Paradise has an impressive rooftop terrace with 360 panoramic views over the town and sea.
QT Tip: Don't miss the extremely popular tennis tournament ATP Croatia Open Umag held in Novigrad every July.
Beach Bahamas
BAHAMAS, CARIBBEAN
Why: Natural beauty, warm weather, pristine beaches and friendly people; it's hard to resist this Caribbean wonder.
Sleep: Nandana
During your stay, you'll be treated to an estate manager, concierge, chauffeur, night butler and chef; additionally a masseuse is available on request. Two ATVs, two jet-skis, paddleboards, water-skis and kayaks are readily at hand for adventuring around the pristine shoreline.
QT Tip: Go off the beaten track and explore the caves in Lucayan National Park.
Beach St Barts
ST BARTHELEMY, CARIBBEAN
Why: Experience laidback luxury on this sophisticated French island as you indulge in the warm weather, chic boutiques, outstanding restaurants and impressive mega yachts that visit every year.
Sleep: La Magnifica
Take in panoramic views of the bay of Petit Cul de Sac and the sea beyond, from the privacy of the villa's large deck. Enjoy a cool drink and soak in the island's sun before firing up the BBQ for dinner under the covered terrace.
QT Tip: Only fifteen minutes from the bustling capital, Gustavia, home to the best boutique shopping, restaurants and spas the island has to offer.
Beach Cap Martin
CAP MARTIN, MONACO
Why: Beautiful and luxurious; paradise on the French Riviera.
Sleep: Villa Lola
This twelve-bedroom villa boasts the most stunning views over the bay of Cap Martin. The entrance table crafted from over 4000 year old Kaori wood, the Italian library with ceramic columns, the original chameleon chair and even a crystal welded chandelier are just some examples of the unique arty feel that comes with this amazing property.
QT Tip: Take a private luxury yacht and witness the beauty of the shore from Monaco's waters.
Beach Santa Barbara
SANTA BARBARA, CALIFORNIA
Why: Spend long, blissful days gazing across golden sand to the Pacific Ocean or simply enjoying the home's many luxurious amenities.
Sleep: Santa Barbara Beach Club
This five-bedroom beach house sits on the shore and boasts a screening room, wine cellar, wet bar and games room. Head for the roof terrace to catch some rays and cool off in the long plunge pool.
QT Tip: Head to 'The Funk Zone' for Santa Barbara's unique bars, galleries and night time hotspots.
For more information please contact: info@quintessentiallytravel.com or please call: +44 (0)20 7022 6560
Source: www.luxurytravelmagazine.com