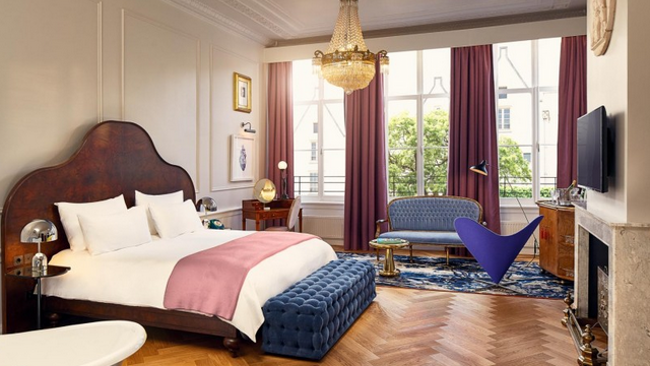 Pulitzer Amsterdam, the celebrated independent hotel stretching through 25 canal houses will reveal the final stage of a top-to-toe refurbishment in August 2016, to coincide with the iconic hotel's 45th year birthday celebrations.
Phase one of the extensive restoration project which was completed in February this year, included a new restaurant Jansz and Pulitzer's Bar, in addition to 80 redesigned guestrooms and suites on the Keizersgracht canal side of the hotel. The new rooms showcase original features alongside contemporary design taking inspiration from the history of the labyrinth of 25 interlinked canal houses which form much of the city's DNA and hold within them many tales and layers of discovery.
The final chapter of the extensive restoration of the eclectic collection of buildings has now begun and will conclude with the joining of the Keizersgracht and Prinsengracht canals to be revealed August 15, 2016 - coupled with a Grand Opening party. The remaining phase of renovations will reveal 145 new guestrooms and suites located between a warren of intriguing passages, a transformed lobby and a lavish marble garden cafe – plus the jewel in the Pulitzer crown, the Pulitzer Garden which will be transformed into a park-like hideaway. The Pulitzer Garden, soon to be known as Amsterdam's 'worst kept secret' given its elite position, size and design as a truly unique offering in the Dutch city, will showcase imaginative design touches such as a giant swing surrounded hand carved wooden rocking horses.
At the time of the Grand Opening on August 15 2016, the hotel will have a total of 225 guestrooms and suites boasting original canal house features to reflect Amsterdam's history and contemporary Dutch design. From trade merchants to flamboyant Dutch aristocrats, the 400-year-old buildings have been sensitively restored to reflect the past inhabitants of the properties. Each building is a monument in its own right, showcasing the traditional essence of the Dutch capital whilst telling a range of stories that will inspire and intrigue guests and visitors. The interiors of each individual space have been designed to convey a dash of idiosyncratic wit that one would expect from such a storied property.
Overseeing the renovations and redesign for the past three years is Creative Director, Jacu Strauss, formerly a senior designer at Tom Dixon's Design Research Studio. Strauss has previously led projects including Barbecoa for Jamie Oliver and Mondrian London at Sea Containers. He commented; "It's incredible to see how our vision for Pulitzer Amsterdam has come to life. We have woven the multiple Pulitzer stories into the fabric of the new design to celebrate and evoke the grandeur and the heritage of these Golden Age canal houses. Our future lies in our past and we want to stay true to our roots and celebrate the history and heritage of the canal houses whilst being both luxurious and glamorous. The hotel's hidden touches and individuality are what makes Pulitzer Amsterdam unique and each room offers ongoing surprises for both new and returning guests."
No two rooms are the same and the individual units together express a flamboyance and playful character and breathe personality. Each balances Amsterdam's rich past and contemporary present in an eclectic mix of finishes and designs. Guests can choose from four distinctive guestroom categories and three suite categories, as well as the beautifully romantic Pulitzer's Suite. In addition there are four exceptional Collector's Suites with private street entrances and stunning views of the canals are inspired by the narrative of elaborate characters who may have lived in the buildings throughout the years; from a compulsive art devotee to an eccentric book lover; a music composer and a grand antique collector. In this home away from home guests can enjoy the use of free wifi, a vintage telephone, Le Labo amenities and a bike repair set.
Pulitzer Amsterdam's new restaurant, Jansz., is a quietly elegant neighbourhood restaurant with an easy-going Dutch attitude. Executive chef Cassidy Hallman has used an old-fashioned, quality-loving approach to create a menu of beautifully crafted modern classics that respect the simplicity of quality produce and ingredients. Dishes include beef tartar with quail egg (starter), Dover sole meunière and Morano spiced salmon.
A timeless cocktail lounge, Pulitzer's Bar, also debuts today and brings to Amsterdam a classic and chic hotel bar, with sumptuous furnishings and a rich and intimate atmosphere. The cocktail menu offers drinks that are classic in element and style, but modern in execution. Each follows one consistent recipe: one part of the past, one part of the present, and one part of revolutionary technique. For example, the Pineapple Old Fashioned is served on a bed of haw to add another layer of aroma to the drink.
Pulitzer Amsterdam is located in one of Amsterdam's most fashionable neighbourhoods, within easy reach of the Rijksmuseum, Stedelijk Museum, the Van Gogh Museum and The Anne Frank House. The chic Nine Streets, the quaint shops of Jordaan, the flower market and the Royal Palace are also a short distance away.
Lead-in rates at Pulitzer Amsterdam start at $295
For further information and hotel reservations, visit
www.pulitzeramsterdam.com
Source: www.luxurytravelmagazine.com