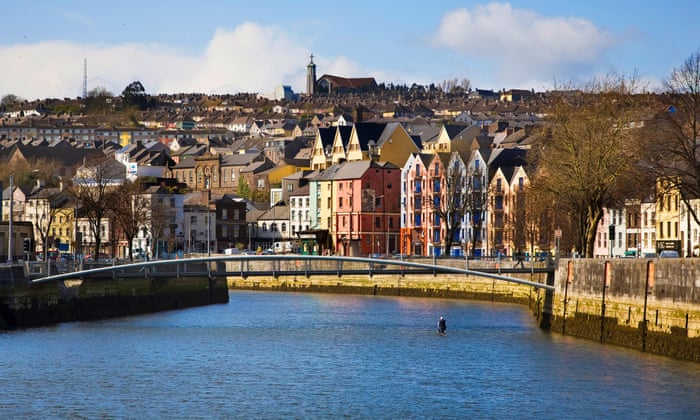 A river runs through it … a lone canoeist approaches Shandon bridge, Pope's Quay, on the Lee river in Cork, Ireland. Photograph: Getty Images/Perspectives
It's always Cork first and Ireland second," said Roy Keane in a 1997 RTE documentary, Have Boots Will Travel. Keane, now the national football team's assistant manager, was describing how he replies when people ask where he's from. However, the reality is this self-proclaimed "rebel city" often plays second fiddle to Dublin in terms of attention, influence and media hubbub – and that even extends to it as a short-break destination. But missing out on Cork is a mistake. This is a city with a little bit of everything, and a touch of magic.
Blessed by a location in southern Ireland that means fresh seafood plus lush countryside for dairy produce and livestock, Cork's food scene is flourishing under the watchful eye of chefs such as Kate Lawlor and Denis Cotter, and at restaurants including Electric, Farmgate Cafe, Fenn's Quay and Market Lane. Beer thoughts may start with Beamish and Murphy's but craft breweries, such as award-winner Rising Sons, as well as Elbow Lane, the Franciscan Well, and the Cotton Ball Brewing Co, provide character in a pub scene that is alive, well and adhering to cliches – in the best possible sense.
Cork may often have been merely a starting point for those heading west to the rugged, dramatic scenery of the Ring of Kerry, Mizen Head and the Ring of Beara but it is a fascinating jaunt in its own right. The verbal jousting with Dublin about being the "real" capital of Ireland is unlikely to end but pick any month and there'll be a great event here; pick the right time and an affordable return flight is likely. Cork could be the short-hop stop that turns into the best of adventures.
WHAT TO SEE AND DO
Get on the Fab Food Trail
Festivals a go-go
Back to university
Shop in a market that's super
WHERE TO EAT
Farmgate Café
Electric
Cafe Paradiso
Market Lane
Nash 19
WHERE TO DRINK
The Mutton Lane Inn
Edison
Charlie's Bar
Dennehy's Bar
Reidy's Wine Vault Bar
WHERE TO STAY
River Lee hotel
The Imperial hotel
More accommodation options