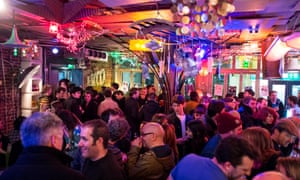 'Junkyard wonderland'… The Hope & Ruin, a bar, diner and gig venue
You might imagine that Brighton, the seaside resort and party town, and Brighton, the lefty, bohemian city (the only one in the UK with a Green MP), co-exist independently. Talk to local creatives, however, and that distinction blurs.
At the same time, everyone enthuses about Brighton's spirit of collaboration, the determination among its alternative tribes to make things happen despite such obstacles; to enjoy life on their own terms. In other cities, alternative communities often simmer with resentment. In Brighton, the attitude is: "Hey, the sun's out. Let's do this."
Musically, Brighton's proximity to London is a mixed blessing (it is easier to book acts; harder to establish a distinct musical identity), but it maintains a vibrant local scene of niche labels and gig/club promoters as diverse as the psych and garage evangelists Acid Box, and electronic connoisseurs First Floor. "People down here are well-educated about underground music," says DJ/producer, Suze Rosser. "And there's a few people here who've chosen to leave London because it's a slower pace and a little more friendly." By the sounds of it, those London escapees have the right idea.
ART
ONCA
The Marlborough
Fabrica
Ad hoc art
Phoenix
MUSIC
Mono
The Green Door Store
Coachwerks
Patterns
Multipurpose Brighton
FOOD
Cin Cin
Bincho Yakitori
Trollburger
Rootcandi
Fatto a Mano
DRINK
Prince Albert
The Black Dove
The Hope & Ruin
The Brunswick
Plateau