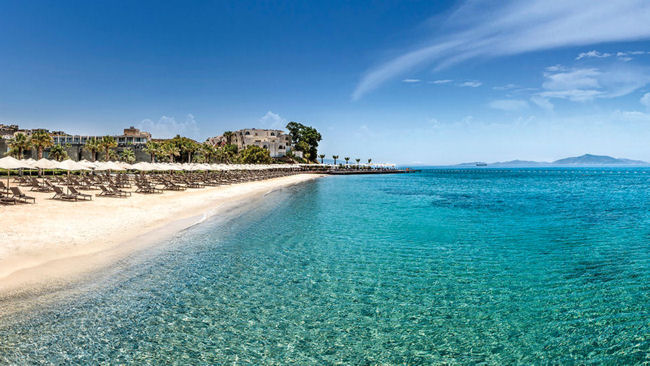 Robb Report, the international luxury lifestyle authority, has released its annual selection of the year's hottest travel destinations.
In the January issue the magazine's expert editorial team explores the places that should be at the top of any luxury traveler's list, from must-see cities and emerging adventure locales to undiscovered islands and untapped wine countries. This special issue also covers Robb Report's fourth annual Culinary Masters Competition and reveals which up-and-coming chef has earned the coveted title of New Culinary Master for 2016.
From
Namibia to Bodrum (pictured) to Bogotá
, the January issue of Robb Report takes readers on an epic insider's tour of the places to be—before everyone else gets there. Not to be overlooked, luxury-destination stalwarts including Paris and Los Angeles have also returned to the list with fresh reasons for a return visit. According to the editors, Paris, the City of Light, is primed to renew its reputation as the city of the future. And with a spate of new gallery openings, Los Angeles has solidified its place as a world capital of contemporary art.
"We take pride at Robb Report in continuously uncovering the unique and inimitable in luxury travel for our readers," said Bruce Wallin, editorial director. "With this year's list of the top 21 destinations, we spotlight our experts' picks for the world's most exciting cities, countries, islands, and other international hot spots for 2016. This issue marks the first in Robb Report's 12-month celebration of our brand's momentous 40th anniversary, and we're proud to start the year off with this thrilling array of luxury destinations."
Packing for any of the travels profiled in this issue would prove daunting to most. Thankfully, Robb Report teamed up with industry icon Bruce Pask, fashion director at Bergdorf Goodman's Men's Store, for help building a stylish and sensible wardrobe filled with essentials to cover any turf, from the mountains to the shore and beyond.
The January issue also offers a behind-the-scenes look at Robb Report's fourth annual Culinary Masters Competition. Six master chefs—John Besh, Curtis Duffy, Christopher Kostow, Barbara Lynch, Norman Van Aken, and Michael White—handpicked the United States' most talented up-and-comers to face off in a clash of regional cuisines. In a show of sheer skill and creativity, Lee Wolen, chef and partner at Chicago's Boka—nominated by chef Curtis Duffy of Grace—has been named the victor of this year's competition. For a taste of Wolen's winning dishes, visit
RobbReport.com/culinarymasters
.
An exclusive bonus feature in this month's digital edition of Robb Report names the top 10 cars for long-distance drives, while RobbReport.com spotlights the top places to stay during the
32nd annual Sundance Film Festival in Park City
, taking place January 21–31. Plus, tune in to
RobbReport.com/Detroit
for Robb Report's real-time coverage of the North American International Auto Show, which takes place January 11–24 in Detroit, where Robb Report's automotive experts will report live from the trade-show floor.
Source: www.luxurytravelmagazine.com