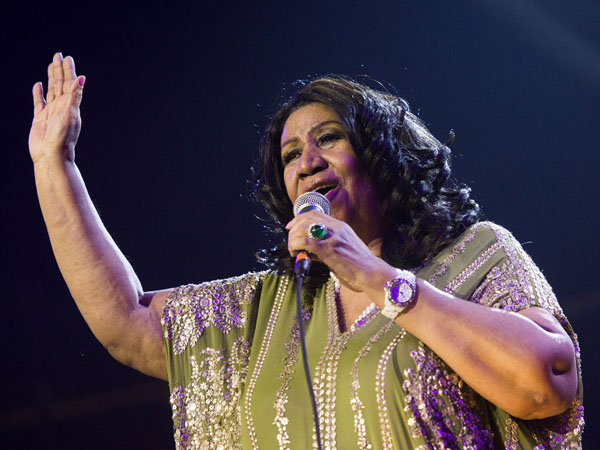 Aretha Franklin is slated to join the lineup of artists performing for Pope Francis at the Festival of Families Saturday, Sept. 26.
The Queen of Soul will join tenor Andrea Bocelli, the Philadelphia Orchestra, and Latin pop star Juanes, who was announced in June, according to sources with knowledge of the event planning.
The festival will be broadcast on TV and shown on 40 Jumbotron screens throughout the city. Free tickets nearest the stage were all reserved last week but the portion of the Benjamin Franklin Parkway from 20th Street east is unticketed and open to all.
Pope Francis is expected to attend and speak at the Festival of Families. Between performances, he will meet with six families from different continents. A smaller stage will feature cultural acts and spiritual organizations from around the region.
Sources said Franklin, 73, was confirmed for the event, though an official announcement from the World Meeting of Families wasn't expected until Monday.
Comedian Jim Gaffigan may be joining the revelry as well. Gaffigan said in a Wall Street Journal interview he would do a 20-minute set at the festival, and sources confirmed he was in talks with event producers.
Gaffigan, who is Catholic, stars in The Jim Gaffigan Show, modeled after his life as a popular stand-up comic juggling the entertainment business, five children, and a devoutly Catholic wife while living in an apartment in Lower Manhattan.
Eighteen-time Grammy Award winner Franklin was the first woman to be inducted into the Rock and Roll Hall of Fame and was named one of Rolling Stone magazine's 100 best singers of all time.
The daughter of a preacher and a gospel singer, Franklin started singing in her father's Baptist church in Detroit and has remained a devout Christian.
---

Read more at http://www.philly.com/philly/news/pope/20150914_Queen_of_Soul_to_serenade_the_pope_in_Philly.html#YcUE0E58E3olkLCE.99